C. Sue Mautz, LICSW, MSW, BCD
& Bill Mautz, Ph.D.
Certified Imago Presenters

Getting the Love You Want Workshops are based on the
Dr. Harville Hendrix Imago theory

Call for upcoming workshops

During the beginning of a relationship, we have a vision of what we think our relationship will grow
into. When reality does not match our vision, power struggles occur and you find yourselves having the same arguments over and over. The relationship begins to lose the energy, passion and connection that brought you together.

During the workshop, couples gain insight into how they arrived at this point and have a better understanding of each other. Couples will begin to enjoy the profound journey of healing, growth, meaningful communication and surprisingly; answers to age-old conflicts emerge.

The workshop teaches you the Imago dialogue which is a simple, respectful and effective tool that allows you to talk with your partner about the things that really matter & couples begin to unlock the secrets of a dynamic relationship.

What you can expect at the workshop:

Demonstrations of relationship tools & exercises.
Practice new behaviors and skills with your partner in a private space with Sue and Bill's guidance.
We provide a safe, comfortable, fun and nurturing environment where you and your partner feel respected, supported, listened to, valued and empowered. You are never asked to share information that you are not comfortable discussing in a group setting.
You will experience healing growth for both yourself and your relationship.
Imago has no blame, shame or criticism.
Rekindle your love and experience the fun and joy of being in a relationship.



Awarded the Best of Portsmouth Marriage and Family counseling by the US Commerce Association for the sixth consecutive year.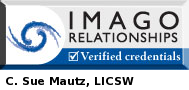 C. Sue Mautz, Conscious Connection, 338 Middle Street, Portsmouth, NH 03801
© C. Sue Mautz 2016